Are you ready to have a dog that comes to you the first time you ask, every time you ask?
Recalling away from deer.
Away from a dangerous, busy road after the front door was left open.
The very first time they're called.
Our training protocol creates a level of off-leash reliability you have to see to believe.

And yes, your dog can do this.
We've taken our tried-and-true training protocol and created an easy-to-follow, highly effective online course that you can complete on your own time, and at a fraction of the price of in-person training.
We'll guide you through the exact steps used to achieve the results you see in the promo video (these are ALL actual clients of ours!) and you even have the option of adding on group and/or private coaching if you'd like extra help.
Are you ready to have a dog that comes to you the first time you ask, every time you ask?
Let's do this.
Your Instructor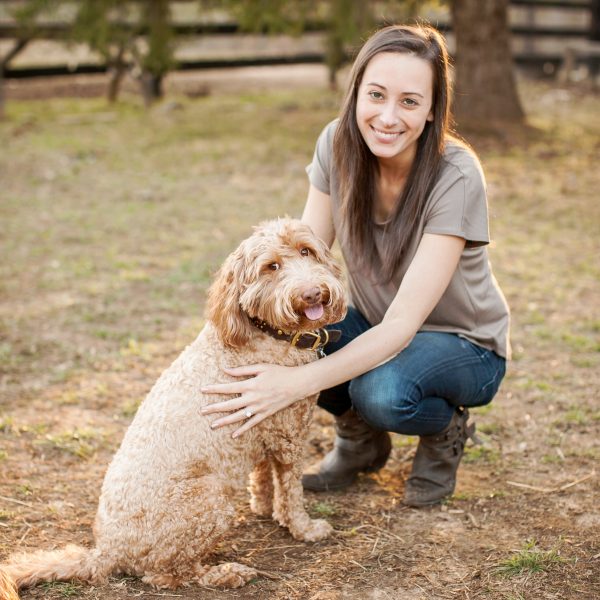 Peach on a Leash owner and head trainer, Alex Sessa, (formerly Andes) CPDT-KA, CDBC, VSPDT is a pet behavior expert who has been training dogs and studying dog behavior for nearly a decade.
Alex is a Certified Professional Dog Trainer through the Certification Council for Professional Dog Trainers, a certification that requires hundreds of logged training hours and passing a comprehensive exam. She is also one of only five trainers in the state of Georgia to receive full certification as a Certified Dog Behavior Consultant through the International Association of Animal Behavior Consultants. This high-level certification requires a rigorous application process that's assessed by a panel of experts in dog training and behavior, and you must demonstrate the knowledge and ability to handle complex behavior cases in order to be certified.
Additionally, she has attained the prestigious Victoria Stilwell Positively Dog Trainer (VSPDT) certification, and has successfully completed Michael Shikashio's Aggression in Dogs Master Course.
She attended the University of Georgia, where she began honing her training skills while helping improve the behavior of local shelter dogs to reduce euthanasia rates. She graduated with honors in 2012 and worked as both a pet adoption counselor and an assistant dog trainer before being offered a job with celebrity dog trainer Victoria Stilwell of Animal Planet's "It's Me or the Dog."
Alex traveled the world with Victoria and had the opportunity to learn from her in all facets of training and behavior for five years before deciding to pursue her dream of founding Peach on a Leash. Their work together allowed Alex the opportunity to work hands-on with both pet dogs and working dogs, including police dogs and accelerant detection dogs.
As the founder and owner of Peach on a Leash, Alex manages our training program as well as our team of six exceptional, highly qualified training and behavior experts. She leads the training for our VIP Puppy Development program, which has provided professional training for celebrities, athletes, CEOs, and other high-profile clientele. She has been featured on HLN, WSB-TV, 11Alive, and various print publications.
Alex also serves as both a faculty member and a mentor for students in the Victoria Stilwell Dog Training Academy, as well as consulting for other training companies and non-profit organizations needing guidance with their dog training programs.
Alex is proud to be active in the animal rescue community. She works with Furkids Animal Rescue, Atlanta Boxer Rescue, Angels Among Us Pet Rescue, Orphan Annie Pet Rescue, Canine Cellmates, and others.
These experiences have helped her to become one of the most studied, well-rounded trainers in the area, and her results-oriented training utilizes effective and humane techniques that are backed by the latest modern behavioral science.
She shares her home with her husband Will, who is a police K-9 officer, and their beloved dogs.
Course Curriculum
Let's Get Started - Don't Skip This Section!
Available in days
days after you enroll
Teaching the Verbal Recall
Available in days
days after you enroll
Teaching the Whistle Recall
Available in days
days after you enroll
Frequently Asked Questions
How long do I have to complete the course?
As long as you need! Our courses are completely self-paced, and you have lifetime access.
What if I purchased a Bronze level program, but want to upgrade to a Silver or Gold Level?
Just shoot us an email at helpdes
[email protected]
, and we'll be happy to upgrade you.
Does this training work?
We have thousands of happy clients that can attest to the effectiveness of our training! Follow the steps, ask questions if you have them, and you'll be amazed at how quickly your dog catches on.
Does this program use an e-collar?
No, we do not use e-collars in our training.
What kind of training can I expect in this course?
All of the training in this course is based in positive reinforcement, and will give you a dog that's eager and reliable in their recalls. We will be using your dog's top motivator as their reward during the training process. For most dogs, that will be food, but we also offer the option of toy/tug motivation for high-drive dogs. We will teach you how to properly use the motivator so that your dog won't become reliant on it in order to perform the behavior.
What is your satisfaction guarantee?
We understand that purchasing an online course from us is an investment in your dog and your family. We ask that you really dive into this training process and complete the course in its entirety. Make sure you are following our protocol EXACTLY as it's explained. While we can't guarantee any animal's specific behavior (no one can, and it's considered unethical in our industry to suggest that we can!), we can guarantee YOUR satisfaction with the program. In the event that your recall goals were not met while implementing this course to the best of your ability, email our support team at
[email protected]
within 28 days, and let us know you'd like a refund. Please note that refunds can only be offered for the course itself, and not access to the private group or used private sessions.
Does my dog need any prior training before completing this course?
The only prerequisite to this course is a good relationship with your dog. There is absolutely no prior training required, and you can start at ANY age. We recommend you consult your vet if you have any concerns about your dog's physical health and their ability to participate.